Long overdue, breaking news as reported today by The Guardian…
Government is responsible for trauma of 16,000 indigenous children removed from families in 'Sixties Scoop' between 1965 and 1984, judge said.
A group of aboriginal children sit with a nun in 1940 at a residential school in Canada, a system that attempted to eradicate indigenous culture and assimilate First Nations children. Photograph: Handout/Reuters
After a bitter legal battle that has lasted nearly a decade, a Canadian judge has ruled that the government is liable for the harm inflicted on thousands of First Nations children who were forcibly removed from their families and adopted by non-indigenous families.
Between 1965 and 1984, around 16,000 indigenous children were fostered or put up for adoption in an episode which became known as the "Sixties Scoop".
Ontario superior court justice Edward Belobaba's ruling Tuesday found in favour of survivors of the operation and their families, who argued that the forced removal robbed the children of their cultural identity and caused emotional damage that has resonated for generations.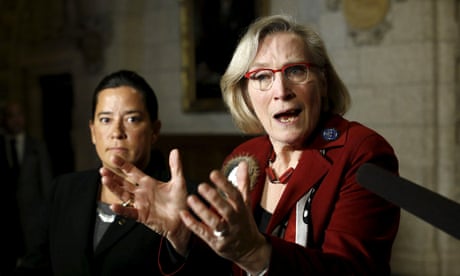 "There is … no dispute that great harm was done," Belobaba wrote. "The 'scooped' children lost contact with their families. They lost their aboriginal language, culture and identity. Neither the children nor their foster or adoptive parents were given information about the children's aboriginal heritage or about the various educational and other benefits that they were entitled to receive. The removed children vanished 'scarcely without a trace'."
The class-action lawsuit was launched last year, after nearly seven years of delays, mostly because of appeals by the federal government. The plaintiffs sued the federal government for C$1.3bn in damages, though a settlement has yet to be reached.
Belobaba accepted the argument that the federal government did not consult with indigenous parties before provincial agents moved in to apprehend 16,000 children from Ontario reserves.
"The evidence supporting the plaintiff on this is, frankly, insurmountable. In any event, Canada offered no evidence to suggest otherwise," he said in the decision.
Canada consequently "breached" an intergovernmental accord established in 1965 called the Canada-Ontario Welfare Services Agreement.
"The uncontroverted evidence of the plaintiff's experts is that the loss of their aboriginal identity left the children fundamentally disoriented, with a reduced ability to lead healthy and fulfilling lives," Balobaba wrote. "The loss of aboriginal identity resulted in psychiatric disorders, substance abuse, unemployment, violence and numerous suicides."
The final report of Truth and Reconciliation Commission stated the Sixties Scoop continues to cause dysfunction in indigenous families. Canada has never officially apologised.
Michael Cheena, a peer support mentor at Toronto's Council Fire Native Cultural Centre, said Canada has an obligation to those who survived the Sixties Scoop. His work involves reconnecting residential school and Sixties Scoop survivors with their native languages and cultures.
"Reconciliation means acknowledging historical injustices and taking action to end colonialism," he said, in reference to the court verdict. "These policies eradicated spiritual practices, cultural identity and language."
Marcia Brown Martel, one of the lead complainants in the lawsuit said the ruling was "a step closer to reconciliation".
"After so many years, I feel like a great weight has been lifted from my heart. Our voices were finally heard and listened to. Our pain was acknowledged. I hope no one sees this as a loss for our government. It is a gain for all of us," she said. "There is still work to be done, but my hope is that we can now undertake that work with open hearts and open minds."
https://www.theguardian.com/world/2017/feb/14/canada-sixities-scoop-ruling-first-nations-children